Sahyadri Arts College is the First College to be Accredited with A - Grade status by NAAC in Kuvempu University Jurisdiction in the year 2008.

Sahyadri Arts College is recognized as
"College with Potential for Excellence"
status in the year 2010 which is one among the 146 colleges in India.
2917+ U. G. Students,
267+ P. G. Students,
112+ Ph. D. Students,
20+ Ph. D. Research Guides,
49+ Teaching Faculty,
31+ Ph. D. Holders,
21+ Administrative Staff,
79.1+ Acres of Land,

SAC, Shivamogga has been awarded
SADHANA PURASKARA
(2007-08) for its outstanding performance. It is one among 162 colleges under the jurisdiction of Kuvempu University.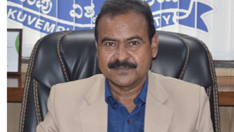 Prof. B P Veerabhadrappa
has assumed the office of Vice Chancellor of Kuvempu University on 02-08-2019.
He was felicitated on 03-08-2019 by the Principals, Faculty, Non-Teaching Staff and students of Sahyadri Arts, Sahyadri Science and Sahyadri Commerce and Management Colleges.