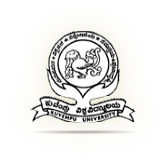 Courses Offered - P. G.
Post Graduate Course - M. A.,

Duration of course
The course of study for M. A., degree shall extend over a period of 2 academic years, each academic year is comprised of two semesters and each semester is comprised of 16 weeks of class work, provided that the candidates completes his/her degree within six years from the date of admission to the first semester of the M. A., degree course.

Post Graduate Departments

Department of English

Department of Economics

Department of Political Science

Elective Papers in PG Courses:
01. MA English (Previous)
02. MA English (Final)


03. MA Economics (Previous)


04. MA Economics (Final)


05. MA Political Science (Previous)
06. M.A Political Science (Final)

Dalit Literature, American Literature Linguistics
Modernity & Modernism, South Asian Studies, Discourse Analysis

Economics of Infrastructure, Resource Economics,
World Trade Organisation
Public Finance, Indian Economy, Rural Development,
Human Resource Development
Human Rights, International Relations, Problems and Prospects
Public Administration

Teaching Faculty (Post Graduate)

MA in English
Sri. Avinash. T, Coordinator

MA in Economics
Dr. K .B. Dhanajaya, Coordinator

MA in Political Science
Dr. PRAHALADAPPA M. H., Coordinator

MA in Sanskrit
Dr. Shruti Keerthi., Coordinator

MA in Urdu
Dr. Azeez Ahmed., Coordinator

Examination : 3 Hours per paper
Maximum marks per paper : 100
Semester - end University Examination : 80 marks
Internal assessment : 20 Marks

Appearance for the Examination
A Candidate should apply for all the subjects of the semester when he/she appears for the examination of that semester for the first time.

News and Events


Quick Links


SAC Shimoga - A Snap Shot


Programme Offered


Departments


Human Resources


Research @ SAC


Amenities


Photo Gallery


Downloads


Contact Us


A to Z Links



sacc.smg@gmail.com
+ 91 8182 240180

Copyright © SACS 2014, All Rights Reserved
Best viewed in 1024 X 768 resolution with MSIE 7+